The En-Fold® Retractable Awnings Roof
Weather Protection
Ultimate Outdoor Protection from Whatever Nature Has in Store
The En-Fold® stadium-grade retractable awning is the perfect synthesis of beauty and brawn. Owing to its exclusive tensile architectural design and engineering, En-Fold® stadium-grade retractable awning outclasses its nearest competitor in every weather-related performance category.
Wind - En-Fold® stadium-grade retractable awning can safely remain fully deployed in winds up to 90 mph (115 mph ultimate wind speed in accordance with the 2015 IBC). Higher wind speeds can also be accommodated if necessary.
Snow - En-Fold® stadium-grade retractable awning can support roof design snow loads of 30 psf (pounds per square foot).  En-Fold® retractable awning can also be designed to accommodate larger snow loads if necessary.
Sun - En-Fold® stadium-grade retractable awning create a beautiful experience of diffused museum-quality lighting, while blocking up to 100% of damaging UV rays.
Rain - From light drizzles to tropical downpours, no amount of rain is too much for En-Fold® stadium-grade retractable awning to handle.
Pre-Designed or Designed-to-Order
En-Fold® offers optimal customer solutions through our Designed-to-Order and more affordable Standard Unit Configuration options.
All of our options offer En-Fold's industry-leading weather protection, durability, long life-span, and technology. The designers and engineers at En-Fold and Uni-Systems are always pushing the envelope of possibilities to create new configurations, finish options, fabric choices, and control system features to meet clients' needs.
Pre-Designed
En-Fold's cost-saving Pre-Designed system offers an array of modular standard sizes and configurations at great savings in base cost and installation when compared to more custom applications.

The Pre-Designed option makes En-Fold's quality available for small and medium size businesses to improve their customers' experience with the same premium product found in our design for high-end hotels, restaurants, and outdoor venues around the world.
Get a quote on our Pre-Designed configurtions, inquire now
Pre-Designed: Size and Extension Options
With the Pre-Designed system, the extension options range from 20' - 40' with 5' increments and the width choices range from 20' – 80' in 10' increments. We offer design guidance and great flexibility to meet your programmatic needs. As shown below, the Pre-Designed system offers over 35 most popular configuration options.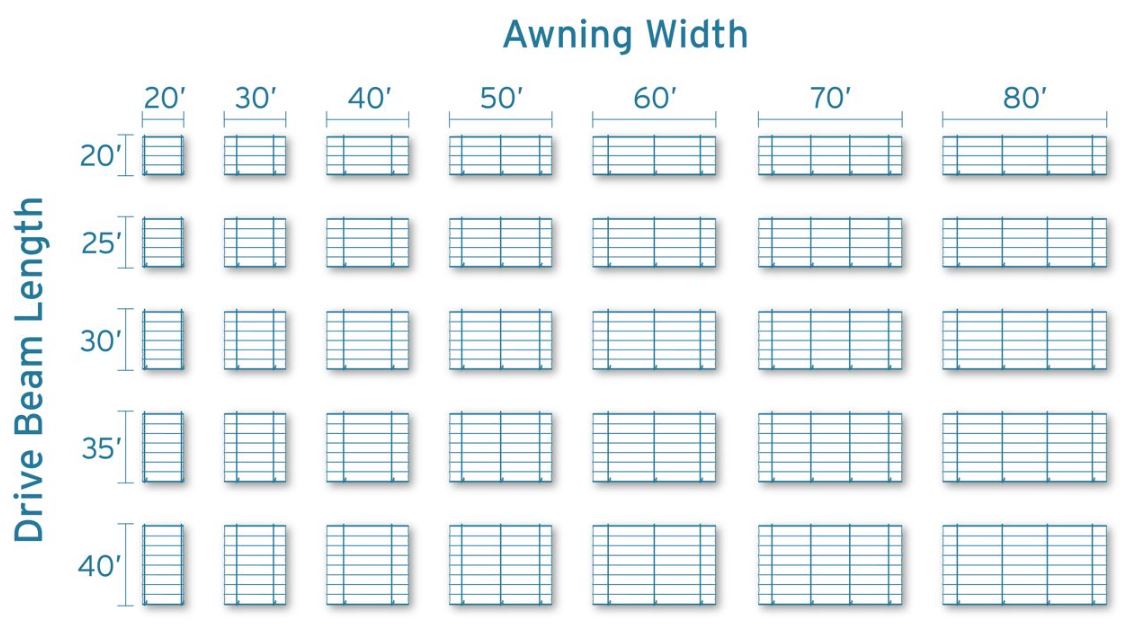 Pre-Designed: Fabrics and Finishes
With the modular standard unit configurations seen in the matrix below, the finish option is clear anodized. Fabric option is the standard grade PVC/PVDF.
Pre-Designed: System Controls and Security
The control system options are our standard push button remote, auto-retract on signal from the fire panel, and mGuard secure Cloud connectivity.
Designed-to-Order
We create Designed-to-Order configurations for even the most complex spaces such as an irregular shaped historic courtyard or a location with specific design constraints. For more information on our Designed-to-Order configurations, inquire now.
Choosing between Pre-Designed and Designed-to-Order options
Application Specific Units
Infinite Sizes (within system limitations)
Limited Sizes (see size matrix)
Complete set of stamped and signed application specific Shop Drawings
Limited set of stamped and signed standard Shop Drawings with application specific cover sheet
Complete set of stamped and signed application specific calculations
Limited set of stamped and signed standard calculations
Clear anodized aluminum finish
Bronze series anodize finish
Standard En-Fold white marine grade paint finish
Custom color marine grade paint finish
Sefar Tenara ePTFE fabrics
Serge Ferrari Precontraint PVC fabrics
Other fabric alternatives (must meet system capabilities)
Standard wall mount connection brackets
Standard column mount connection brackets
Custom connection brackets
Custom steel support structure
Standard steel support columns
Standard thickness aluminum top plate
En-Fold aluminum side channels for spans up to 60'
Application specific edge overhang
Edge overhang specified in "Edge Overhang" matrix
Biaxial tension Dynema® edge ropes
Standard En-Fold fabric beam end caps
En-Fold Multi-Position system
En-Fold Curved End extension
Standard Mono-Slope Configuration
Transverse Mono-Slope Configuration
Gable Multi-slope configuration
Saw Tooth Multi-Slope configuration
Auto-retract on signal from Anemometer
Auto-retract on signal from Fire panel
Auto-extend on signal from rain sensor
Building management system tie-in
Extended 6 – 10 button remote
mGuard Secure Cloud remote connectivity
Commercial Gutters & Flashing
ROI: Return on Investment
For bar, restaurant, and event providers, having usable, elegant, comfortable, and reliable outdoor space can be a big money maker. En-Fold® generates positive cash flow savings and frequently has a documented payback period as short as just 24 months. And in the long run, it is not uncommon to realize a ROI in excess of 1,000% over the expected life of the system.
Leasing & Financing Options
Uni-Systems is pleased to offer a variety of leasing and financing options for your En-Fold® system through KLC Financial.
Program Features:
100% Financing
Leasing & Financing Options
Up to 60 month term
Optional Seasonal Payments
Options for all credits
All Equipment + Soft Costs
Rates will vary due to dollar size of transaction, time in business and credit history.
KLC Financial, Inc. and Uni-Systems Partnership
KLC Financial has successfully funded equipment purchases for the restaurant and retail industries for more than 30 years. KLC understands the industry: its cash flow, historical success and growth potential, benefits, and lifespan of the equipment. KLC pays according to Uni-Systems' terms to do its part in making sure customers receive their equipment within the agreed upon timeframe. This is why KLC is a great fit for financing the En-Fold® system.
Advantages of leasing equipment include a lower initial expense out-of-pocket, tax-deductible monthly lease payments, more flexible terms than a bank loan, and each monthly payment is considered to be an operating expense, rather than a debt.