Life-long astronomy buffs were building a family compound in remote northern Minnesota, a location ideal for stargazing. Uni-Systems was asked to design an observatory platform that would be open to the night sky, yet allow for protection from the harsh winter climate.
The Uni-Systems design team created several plans, and the winning option called for something never previously seen in a private home – a sliding, cantilevered roof.
At the push of a button, the roof pivots, providing clearance for the telescope. Next, the entire roof slides back 18', where it cantilevers off the back of the conservatory structure. Finally, the front edge of the retractable roof pivots down to the original, horizontal position to provide an unobstructed view of the entire night sky.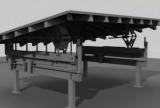 Project Information
Project Scope:
Design, Fabricate, Install