The California Academy of Sciences roof is not your typical roof. Rolling hills and 1.7 million native plants on the building help keep the interior cooler than a standard roof, and helps to reduced heating and cooling needs. Uni-Systems designed, fabricated and installed a polycarbonate retractable roof system as a replacement for an existing fabric shade, and have created an element that fits more seamlessly into the design aesthetic of a green building than the original.
The CAS roof is comprised of 2 polycarbonate panels that slide along the 8 supporting arches across the roof opening. The panels are belt-driven and are each powered by 4 electric motors (8 motors total). The panels meet at the top of the arches and seal to protect guests below from rain. With a more weather-tight roof, the CAS is able to offer programs and house exhibits in the piazza atrium below.
The retractable roof's control system allows for the roof to be linked in with the building-wide control system and is remotely operated with an iPad.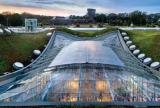 Project Information
Client:
California Academy of Sciences
Project Scope:
Design, Fabricate, Install